Antolin has the most complete offer in the door function, in the industry from mechanisms to sophisticated trims with decorative films to ambient lighting and electronics.
The door is an essential element of the design of car interior, in which multiple expertiseconverge. It has become an integrator of various components: electronic devices, lighting or decorative inserts, which provide safety, comfort and functionality.
At Antolin, we are experts in door trims and mechanisms, a unique technological synergy in the market that allows us to offer a wide range of modular solutions. Our door panels incorporate innovative technologies in product and process, as well as in materials aimed at weight reduction (natural fibres or chemical foaming).
In short, multi-technology, maximum integration, global implementation and industrial flexibility place us as world leaders in this product.
Our offer in hard trim consists of a wide range of products ranging from upper and lower pillars to plastic covers of all types, gate and trunk modules, door scuffs, cargo management solutions and "front trunks"for electric vehicles (FRUNK).
The pillars have become a key element of perceived quality of the interior of the car.  For Antolin, the adjustment of the pillars with the headliner substrate is one of the main issues in the development of the overhead function, both for the safety and airbag deployment and for the need for a harmonious result of the entire interior.
Antolin develops technological solutions taking into account factors such as head impact regulations, the possibilities offered by its new fabrics, and the incorporation of both ambient and functional lighting elements.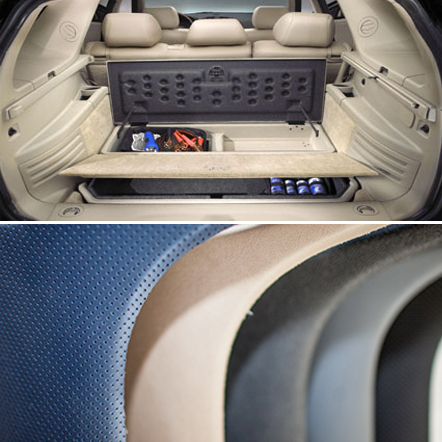 Where functionality, lightness and silence come together
Antolin develops and produces solutions for ihe interior luggage compartment, satisfying the three maxims of this function: weight, cost and soundproofing.
The company offers all components, from loading  floor and side trim panels  to tailgate trim and parcel shelves. Advances in this function focus on weight reduction, improved soundproofing, the use of new materials and the integration of lighting solutions.
Another key aspect is efficient cargo management, offering everything from variable anchorage systems to "origami" compartments that allow optimal modularisation of the cargo space.
This business area benefits from technological knowledge of other functions by leveraging synergies and cross-divisional knowledge. In this way, Antolin produces, for certain segments, its own carpets and linings.
In mechanisms, we have a wide range, from simple window regulators in all morphologies to complex modules and smart systems.
We manufacture window regulators in materials such as plastic, aluminium or traditional steel. Performance using novel materials is the same with the possibility of reducing components, minimising weight and, in some cases, at a lower cost compared to conventional products. We also innovate to reduce module complexity, simplify the production process, and even incorporate novel materials such as EPP in the modules production.
Our offer of mechanisms is complemented with seat locks, being suppliers of complete platforms for certain customers.